11-year-old bitten by shark at Stuart Beach, Florida
11-year-old bitten by shark at Stuart Beach, Florida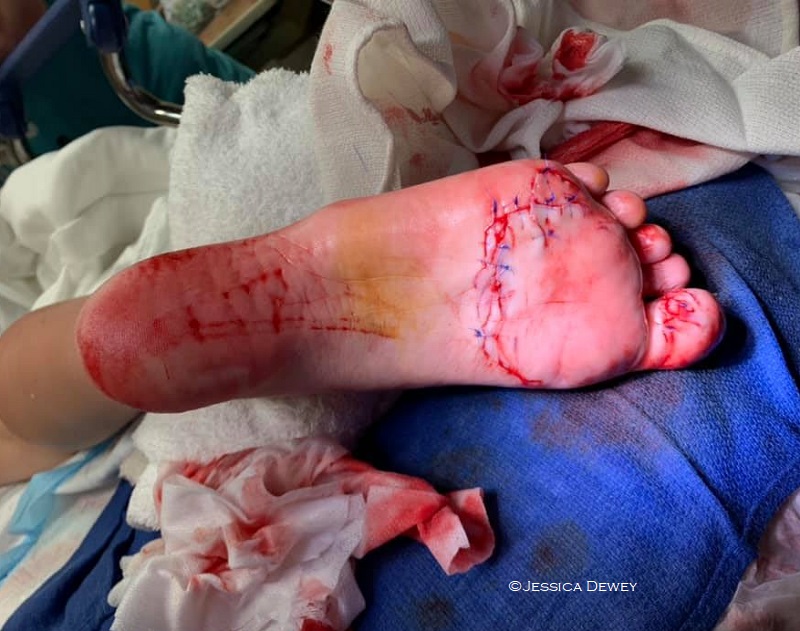 An 11-year-old Iowa boy was bitten by a shark March 12 while boogie boarding off Stuart Beach, Stuart, Fla.
Kael Dewey and his mother Jessica were enjoying spring break and hitting the waves, when Jessica decided it was time to head in around 2 p.m.
As the two were surfing back to shore Jessica heard her son scream. Kael yelled that he was bitten by something "really, really bad." He pulled his injured foot out of the water and put it on top of his board to keep as much blood as possible out of the water.
"I'm very proud of him. He said he remembers from watching shows on TV that sharks can trace blood," Jessica told KWAY Radio.
However, the sight of the injuries sent his mother into emergency mode. "I saw blood just running down his feet, his foot and his leg. And I was just screaming 'get to shore, get to shore,' and I was trying to swim over to him."
Mother and son were about 15 feet from the beach where several people watched the incident unfold and headed in to help.
The beach patrol called an ambulance and the pair were taken to the hospital.
Both the bottom and the top of the Kael's foot had several lacerations which required stitches.
"They [doctors] said that with shark bites they leave the stitches pretty loose because there's a high chance of getting infection, and they like to let it ooze out. He got about 16 stitches. They said he would have got 30 or more if it would have been a regular cut," Jessica said.
Kael is taking pain meds and antibiotics and will be seeing a pediatrist today.
Doctors said the bite was likely from a 2- to 5-foot long spinner shark which bit once and released.
The family will spend the rest of spring break going to museums and, hopefully, watch the St. Louis Cardinals' spring training games.
Many shark species migrate through Florida's water each year. Typically, they move northward and inshore during the spring and summer and then offshore for fall and winter.